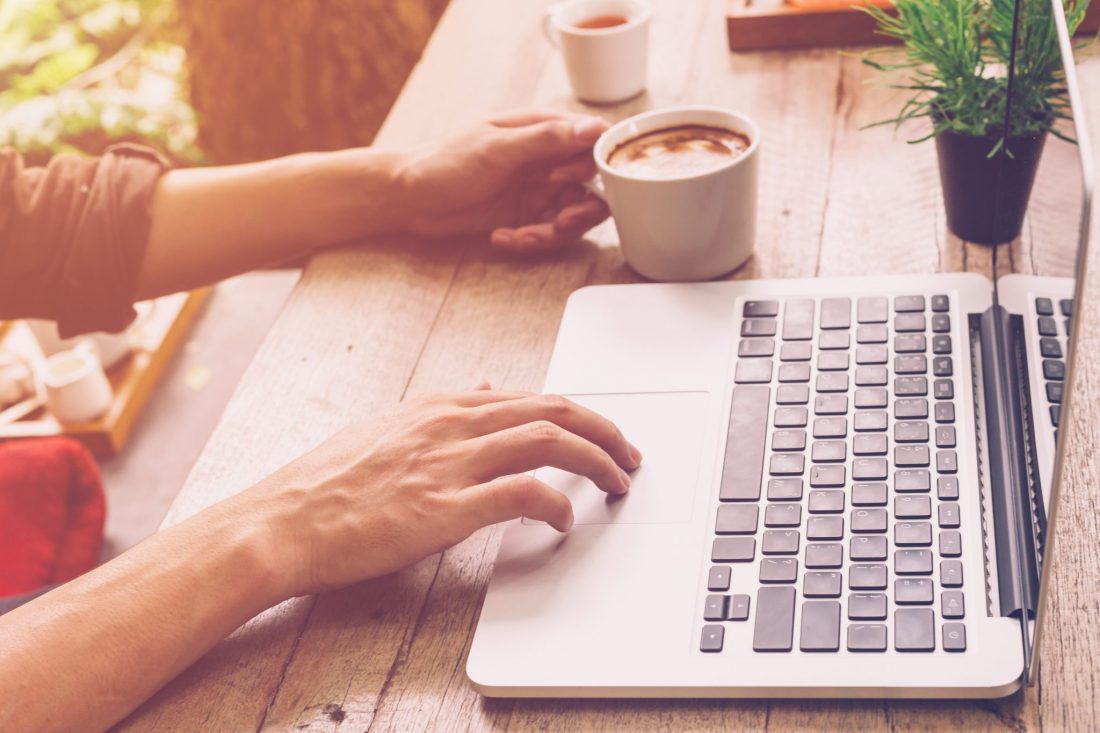 Six Simple Tips to Working Remotely
By Kajsa Reed, Communications Coordinator
Working remotely is the dream, right? You can work the entire day in your pyjamas if you want, leisurely sipping home brewed coffee and avoiding the perils of rush hour traffic.
While it can be a sweet reality, working remotely does present a number of challenges, especially when it comes to productivity, physical movement and socializing. For example, when working eight hours in an office, this time often includes your lunch and other breaks, moving from your desk to meeting rooms, as well as chats with your coworkers. Eight hours working from home can feel like it's just you, your computer, and a laundry list of distractions that can include actual laundry.
As a team well-versed in successfully working remotely, here are our top tips for staying on task while still enjoying easy access to your kitchen.
Over Communicate and Be Proactive.

Stay in close contact with your boss, coworkers or clients. They can't see what you're doing, so you need to tell them. We're not saying snap pictures every time you get a snack or complete a task, but definitely let them know what projects you're working on and how they are progressing.
Use Different Communication Tools and Have Regular Check-Ins.

When you don't see colleagues in an office every day, you miss out on more informal updates and conversations. At Six Words, we take advantage of different communication channels (think text, email, phone calls) to ensure we're connecting regularly. It's also important to create (and stick to) a structure for more formal check-ins. This way, you're all on the same page and you won't miss out on any projects or potential deadlines!
Create a Routine But Remain Flexible.

Creating a personal work routine – whether you are an early riser or a night owl – can be really helpful. By having a set schedule, that includes breaks and exercise, you set yourself up to have productive work hours, time for yourself, and a social life. Time blocking by project, client or goal can be a helpful tool – this way you know you've reserved time in your day to get specific things done. At the same time, remaining flexible will allow you to respond to any urgent projects or tap into how you're feeling on any given day. For example, if you feel extremely productive one day, you may work 10 hours, while on other days you might only work five.
Practice Self-Discipline and Avoid Distractions.

Working remotely, whether from home, the library, or a coffee shop, can be full of dangerous distractions. Household tasks, Netflix, and the infinity of the world wide web are too easy to slip into. It's important to recognize when you start getting distracted. Set breaks for yourself and practice self-discipline. Remember: you can binge watch an entire season of House of Cards on your own time.
Find the Right Tools and Technology. Picking technology that allows you to communicate and share your work in real time is essential to staying on the same page. At Six Words, we've experimented with numerous productivity apps including Trello and Freedcamp. We also love working in Google Drive where we can easily share and collaborate on documents and projects in real time. Try different apps and software to find what works for you.
Don't be a Shut-In.

Connecting with other people is important to maintaining a healthy energy level. Try not to be the person your friends haven't seen in a really long time. We all need social time to help us de-stress, unwind and in many cases re-energize. Be deliberate about finding time in your schedule for social activities and fun.
If you consistently apply these tips, you will find yourself successfully working remotely, and with a list of coworkers that may include your cat.
A fresh thinker and avid writer, Kajsa is a skilled content generator who loves tackling the multi-faceted world of business communications and marketing. In her spare time, Kajsa likes staying active by playing soccer and swimming. Learn more about Kajsa and the Six Words' team here.